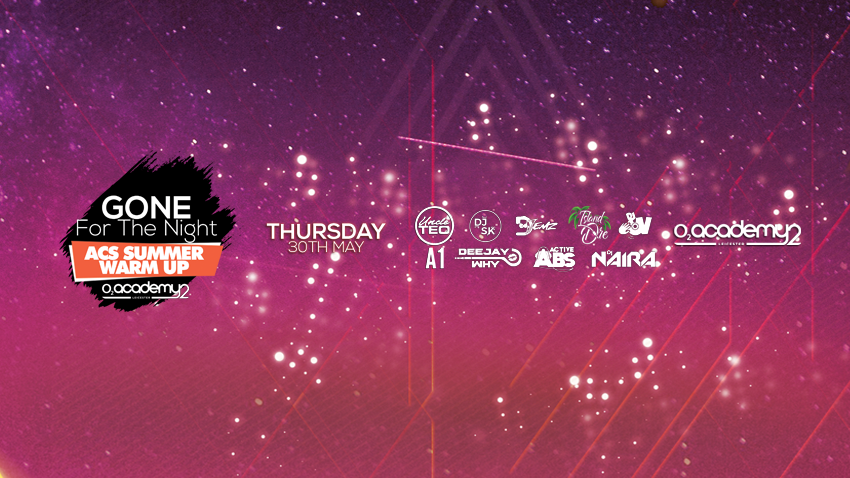 TONIGHT Leicester ACS proudly present…
ACS Summer Warm Up! Gone For The Night! O2 Academy 2 Leicester. 11pm – 3.30am. 
Tickets >>> http://bit.ly/ACSTakeover
7 DJ's on the night!
DJ SK
ACTIVE ABS
DJ EMZ
DJ OV
DEEJAY WHY
DJ NAIRA
DJ ISLAND DRE
Hosted by Uncle Teo & A1!
£3 Super Early Bird Tickets SOLD OUT! 
£6 Early Bird Tickets SOLD OUT!
£8 Standard Tickets now on sale! Get yours before they're gone! >>> http://bit.ly/ACSTakeover
Drinks deals >>>
£2.50 Vodka Mixer
£3.50 Double Vodka Mixer
£1 Corky's Shots
4 JungBOMBS for £8
Original physical proof of age ID (Passport, EU Driving License or approved pass card (www.pass-scheme.org.uk) to prove you are 18+) and valid physical University Student ID Card (Uni of Leicester & DMU automatically accepted, other Uni's ok too but management reserve the right to use discretion) will be required for entry (Uni of Leicester normal +1 arrangement applies for non student friends from home etc. However please note you will be held responsible for the conduct of your +1 in the venue.