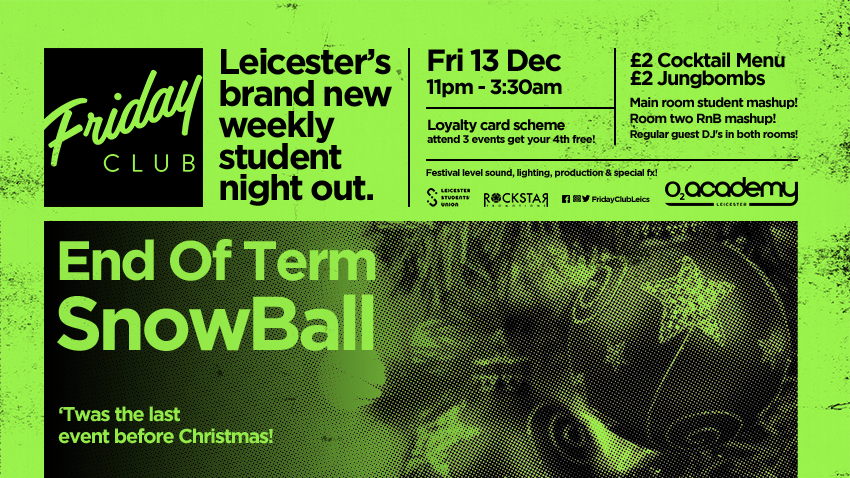 ❄️ On Friday 13th December we present the End of Term Snow Ball at Friday Club! ❄️ One massive Christmas celebration! ❄️
☃️ Spectacular Christmas Decor ☃️ Snow Machines ☃️
🎵 Main Room Student Mashup! with DJ Kate Frost. 🎵
🎵 Room Two RnB & Hip Hop with DJ Kid J 🎵
🍹 £2 Cocktail Menu! 🍹
💣 £2 JungBOMBS 💣
Early Bird Tickets £4 – Only available up to and including Thursday 12th December from The Union SHOP! & www.rockstarpromotions.co.uk
► Free Buses start from 11pm from Rockstar Bus Stop (opposite John Foster). Follow @Rockstar_Bus on twitter for exact timings.
Hosted at Leicester's state of the art O2 Academy, expect the biggest student night in the city each and every week!
—————————————————————————-
TICKET/ENTRY PRICES
Early Bird Tickets £4 – Only available up to and including Thursday from The Union SHOP! & www.rockstarpromotions.co.uk
Standard Tickets £5 – Available from The Union SHOP!, Rockstar Reps, Loaded Dog & www.rockstarpromotions.co.uk
Door Price £5 before midnight/£6 after.
=============================================
KEY FRIDAY CLUB INFO…
Join The Friday Club! Attend 3 Friday Club events and get your 4th visit free! Via our loyalty card scheme.
Drinks offers > £2 Cocktail Menu. £2 JungBOMBS!
🎵 Main Room Student Mashup! With regular guest DJ's! 🎵
🎵 Room Two Mashup of everything RnB! With regular guest DJ's 🎵
► FREE BUSES FROM LEICESTER UNI HALLS
► FESTIVAL LEVEL SOUND, LIGHTING, PRODUCTION & SPECIAL FX!
► LEICESTER'S BRAND NEW WEEKLY STUDENT NIGHT OUT!
=============================================
LIKE the Facebook Fan Page www.facebook.com/FridayClubLeics
FOLLOW US on Twitter www.twitter.com/FridayClubLeics
▬▬▬▬▬▬▬
Connect with us
▬▬▬▬▬▬▬
www.facebook.com/LeicesterUniFreshers
www.facebook.com/groups/UniOfLeicesterFreshers2019
Follow us on Instagram: LeicesterFreshers
info: mail@rockstarpromotions.co.uk
Original proof of age ID (Passport, EU Driving License or approved pass card (www.pass-scheme.org.uk) to prove you are 18+) and valid University Student ID (Uni of Leicester & DMU automatically accepted, other Uni's ok too but management reserve the right to use discretion) will be required for entry (Uni of Leicester normal +1 arrangement applies for non student friends from home etc. However please note you will be held responsible for the conduct of your +1 in the venue. If they are ejected and banned for any reason you will face a ban from the venue also.). Last entry 1.30am. Management reserve the right to refuse admission.
Book your Taxi's with Swift Fox Cabs
0116 26 28 222
Our Preferred Taxi Partner