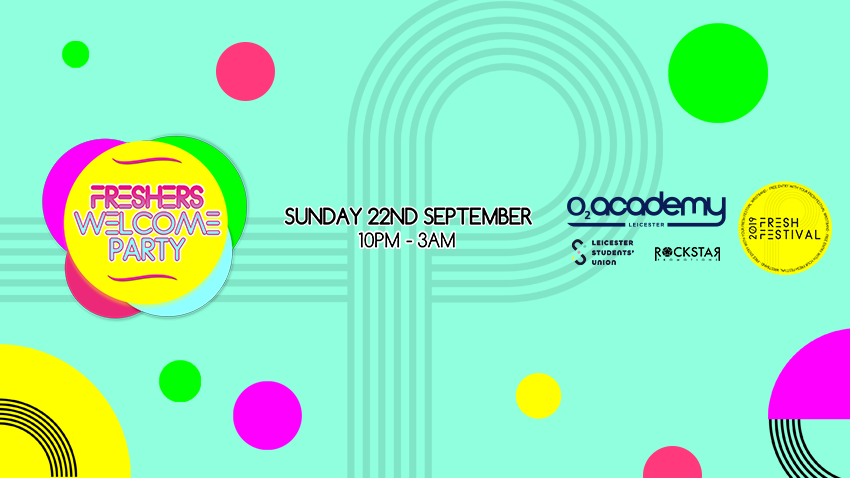 The Official Leicester Uni Freshers Welcome Party! 3000 people saying hello to Leicester!
Event included on Fresh Festival Wristband. FINAL FEW available at www.leicesterunion.com/freshers/wristband
Individual Tickets NOW available for £8 from www.rockstarpromotions.co.uk & The Students Union SHOP! (shop is open Sunday midday – 5pm)
► Free Buses start from 10pm from Rockstar Bus Stop (opposite main entrance to John Foster). Follow @rockstar_bus on twitter for exact times.
This is the ULTIMATE FRESHERS' WELCOME PARTY! 3 rooms of music! A guaranteed sell out and the ONLY way to say HELLO TO LEICESTER! DO NOT MISS OUT!
Plus on the night we turn the stage into a student giveaway fest with loads of student essentials & star prizes such as TV's and games consoles!
Photo's from last year's event – http://bit.ly/2JZdqKI
★ O2 Academy Leicester – Your Students' Union ★
► FREE BUSES FROM LEICESTER UNI HALLS
► 2999 STUDENTS SAYING HELLO TO LEICESTER… AND YOU!
▬▬▬▬▬▬▬
Connect with us
▬▬▬▬▬▬▬
www.facebook.com/LeicesterUniFreshers
www.facebook.com/groups/UniOfLeicesterFreshers2019
Follow us on Instagram: LeicesterFreshers
info: mail@rockstarpromotions.co.uk