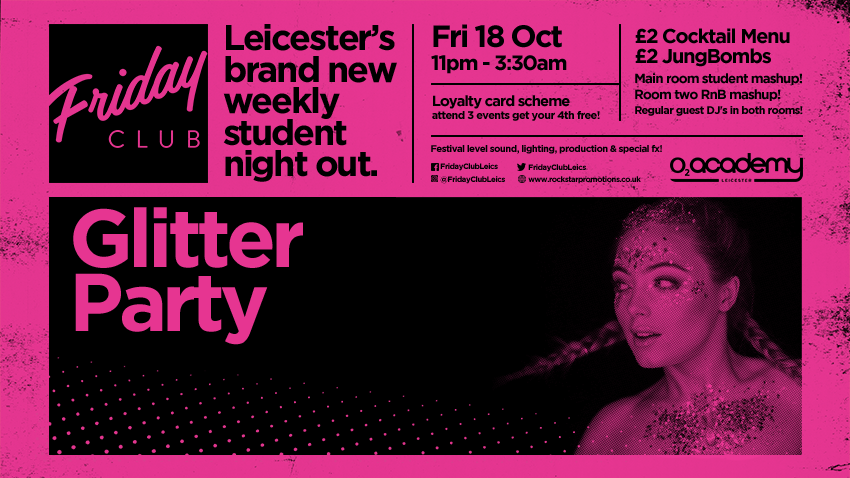 TONIGHT at FRIDAY CLUB we present our Glitter Party! Get your glitter paint and sparkly outfits on!
✨ GLITTER CANNONS ✨ GLITTER FACE PAINTER ✨ GLOW STICKS
🍹 £2 Cocktail Menu! 🍹
💣 £2 JungBOMBS 💣
£5 tickets available from The Students' Union SHOP!, Loaded Dog, Rockstar Reps & www.rockstarpromotions.co.uk
► Free Buses start from 11pm from Rockstar Bus Stop (opposite John Foster). Follow @rockstar_bus on twitter for exact times.
Welcome to your new home every Friday night! As we present, brand new for this year, Friday Club!
Hosted at Leicester's state of the art O2 Academy, expect the biggest student night in the city each and every week!
—————————————————————————-
TICKET/ENTRY PRICES
Early Bird Tickets £4 – Only available up to and including Thursday 17th October from The Union SHOP! & www.rockstarpromotions.co.uk
Standard Tickets £5 – Available from The Union SHOP!, Rockstar Reps, Loaded Dog & www.rockstarpromotions.co.uk
Door Price £5 before midnight/£6 after.
=============================================
KEY FRIDAY CLUB INFO…
Join The Friday Club! Attend 3 Friday Club events and get your 4th visit free! Via our loyalty card scheme.
Drinks offers > £2 Cocktail Menu chosen by you every week! Plus more offers to be announced!
🎵 Main Room Student Mashup! With regular guest DJ's! 🎵
🎵 Room Two Mashup of everything RnB! With regular guest DJ's 🎵
► FREE BUSES FROM LEICESTER UNI HALLS
► FESTIVAL LEVEL SOUND, LIGHTING, PRODUCTION & SPECIAL FX!
► LEICESTER'S BRAND NEW WEEKLY STUDENT NIGHT OUT!
=============================================
LIKE the Facebook Fan Page www.facebook.com/FridayClubLeics
FOLLOW US on Twitter www.twitter.com/FridayClubLeics
▬▬▬▬▬▬▬
Connect with us
▬▬▬▬▬▬▬
www.facebook.com/LeicesterUniFreshers
www.facebook.com/groups/UniOfLeicesterFreshers2019
Follow us on Instagram: LeicesterFreshers
info: mail@rockstarpromotions.co.uk
Original proof of age ID (Passport, EU Driving License or approved pass card (www.pass-scheme.org.uk) to prove you are 18+) and valid University Student ID (Uni of Leicester & DMU automatically accepted, other Uni's ok too but management reserve the right to use discretion) will be required for entry (Uni of Leicester normal +1 arrangement applies for non student friends from home etc. However please note you will be held responsible for the conduct of your +1 in the venue. If they are ejected and banned for any reason you will face a ban from the venue also.). Last entry 2am. Management reserve the right to refuse admission.
Book your Taxi's with Swift Fox Cabs
0116 26 28 222
Our Preferred Taxi Partner