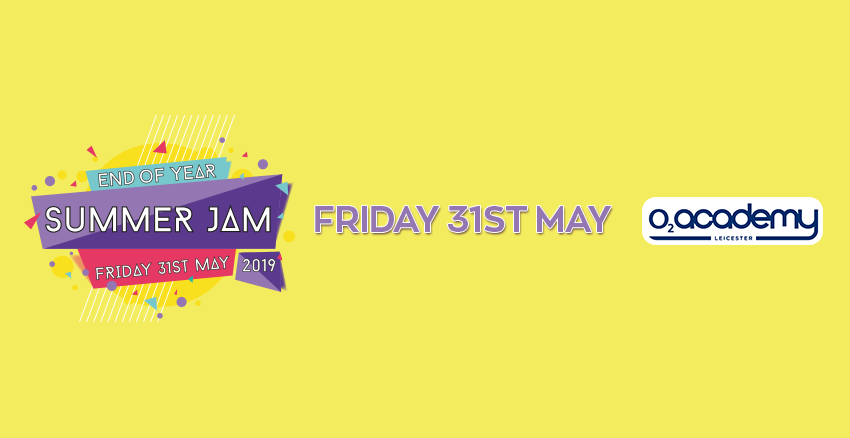 Leicester Uni are you ready?!? TONIGHT it's time for your huge end of year celebration, as we proudly present Leicester Uni Summer Jam 2019!
Are you ready for the biggest event of the year!?!
WRISTBAND PURCHASE/COLLECTION
If you haven't already got your wristband, you can still get these for £6 from www.rockstarpromotions.co.uk. They are also available from Rockstar Reps, the Loaded Dog, and The Union SHOP!
IMPORTANT! If you have purchased on-line, you need to exchange your e-ticket for a wristband! You can do this in SHOP! during the day between 9am & 5pm.
You WILL also be able to exchange your ticket for your wristband at the entrance to the event, by going to the box office. However if possible and to avoid having to queue, please try and exchange during the day. Last exchange will be 2am.    
There will be a FREE BUS to O2 Academy from The Rockstar Bus Stop at 11pm, 11.30pm, midnight & 12.30am. GET AN EARLY BUS IF POSSIBLE TO AVOID THE QUEUES!
ENTERTAINMENT ON THE NIGHT
► Photo Booth (FREE Souvenir prints + all uploaded to Facebook)
► Fun Fair Stalls inc. Tin Can Alley, Splat the Rat, Cork Shooter & Bowling Alley. With prizes to be won on all stalls! These are all free to play!
► Club room feat. LetsDisko, Electric 80's, Shabang, and more!
► RnB Room
► Indie/Alternative Room
► Special drinks deals including £2 Vodka Slush.
► Food available (including FREE Candy Floss & Popcorn!)
► 2019 Survivors Photo!
► FREE BUS to O2 Academy from The Rockstar Bus Stop (opposite JoFo) at 11pm, 11.30pm, midnight & 12.30am. Follow @rockstar_bus on twitter for exact times.
▬▬▬▬▬▬▬▬▬▬▬▬▬▬▬▬▬▬▬▬▬▬▬▬▬▬▬▬▬▬▬▬
BONUS ITEM…
We've teamed up with our friends at NANDO'S Granby Street where your Summer Jam Wristband gets you lots of free chicken for 10 whole days! Sun 26th May – Thurs 30th May and then again from from Sun 2nd June – Thurs 6th June.*
* Full offer T's & C's see below…
▬▬▬▬▬▬▬▬▬▬▬▬▬▬▬▬▬▬▬▬▬▬▬▬▬▬▬▬▬▬▬▬
WRISTBAND INFO…
Wristbands £6. Get yours NOW from The Union SHOP!, Rockstar Reps, Loaded Dog or www.rockstarpromotions.co.uk
We expect a total sell out, so guarantee your place early to avoid missing out!
BE PART OF LEICESTER UNI HISTORY!
▬▬▬▬▬▬▬▬▬▬▬▬▬▬▬▬▬▬▬▬▬▬▬▬▬▬▬▬▬▬▬▬▬▬▬▬
Leicester Uni Summer Jam 2019 is a celebration of your year at Leicester Students' Union, so make sure you are part of this historic occasion and part of Leicester University history!
Facebook >>> www.Facebook.com/LeicesteUniSummerJam
Twitter >>> www.twitter.com/LeicsSummerJam
* Nando's Offer Details – From Sunday 26th May until Thursday 30th May and then again from from Sun 2nd June – Thurs 6th June, by simply showing your Summer Jam wristband when you order, you will get a FREE ¼ CHICKEN (or vegetarian equivalent) AS MANY TIMES AS YOU LIKE during the 10 days at Nando's Granby Street! All you have to do is spend a minimum of £7 on sides/drinks etc. per visit.
Original proof of age ID (Passport, EU Driving License or approved pass card (www.pass-scheme.org.uk) to prove you are 18+) and valid University Student ID (Uni of Leicester & DMU automatically accepted, other Uni's ok too but management reserve the right to use discretion) will be required for entry (Uni of Leicester normal +1 arrangement applies for non student friends from home etc. However please note you will be held responsible for the conduct of your +1 in the venue. If they are ejected and banned for any reason you will face a ban from the venue also.). Last entry 2am. Management reserve the right to refuse admission.
Book your Taxi's with Swift Fox Cabs
0116 26 28 222
Rockstar Promotions Preferred Taxi Partner